Our Mission
The mission of the Oswego Lake Watershed Council is to foster stewardship, education, participation and financial support for the purpose of the conservation, restoration, enhancement and maintenance of watershed functions that achieve and sustain a healthy watershed.
Our Vision Statement
The vision of the Oswego Lake Watershed Council is a healthy properly functioning watershed. This vision is of streams, wetlands, riparian forests, upland forests/trees, Oswego Lake, and other natural resources working together as a sustainable ecological system that supports good water quality, productive habitat for native plant and animal communities, and enhanced quality of life.#whoWeAre

Who we are
The Oswego Lake Watershed Council (OLWC) is a locally organized, non-profit, non-regulatory watershed stewardship organization established to improve the condition and health of the Oswego Lake watershed and its stream network. CLICK HERE to open a copy of our Fact Sheet.
The OLWC formed in 2010, and the Council meets regularly to work together on projects that support watershed health. The OLWC Board has adopted a strategic plan which outline objectives, strategies, time frames and evaluation measures as they relate to OLWC goals for organizational sustainability, ecological integrity of the watershed, and outreach and education. 
What we do
Projects. The council fosters the planning, development, funding, and implementation of projects to enhance, restore, and maintain physical, chemical, and biological integrity of the Oswego Lake watershed.
Action Plan. The council develops a dynamic strategic watershed action plan to foster the conservation and restoration of watershed and stream functions in a holistic way from ridge top to ridge top and from headwaters to and including Oswego Lake.
Monitor Progress. The council monitors watershed health parameters and progress toward achieving the watershed vision.
Monitor Projects. The council monitors project effectiveness.
Watershed Information. The council researches and organizes data that provides awareness and knowledge of watershed health.
Condition Assessments. The council performs condition assessment projects that enhance awareness and understanding of the watershed and facilitate adaptive management of the dynamic strategic watershed action plan.
Facilitation. Through this watershed partnership, council members collaborate to identify issues, promote cooperative solutions, focus resources, agree on goals for watershed conservation, enhance natural watershed functions, and foster communication among all watershed interest.
Landowner Assistance. The council identifies landowner participants for important projects, develops priorities for local projects, and establishes goals and standards for future conditions in the watershed.
Outreach and Education. The council promotes continuing education and outreach to inform people about watershed processes and functions.
Planning. The council provides coordinated, broad-based review of land management plans to local, state, and federal decision-makers.
Benefits of the Watershed Council
The council is a forum to work across jurisdictional boundaries and across agency mandates to look at the watershed more holistically.
The council is a forum to bring local, state, and federal agencies and plans together with local property owners and private land managers.
The council is a forum that provides local people with a voice in watershed, wetland, and stream management that can positively influence watershed management decisions.
Meetings
Anyone can get involved with the Council by attending monthly Council meetings, working on Council sub-committees, or helping with projects. Council meetings are held the second Friday of the month from 8am to 9:30am. at Gubanc's Pub and Restaurant 16008 Boones Ferry Rd, Lake Oswego, OR 97035.
Jack Halsey, OLWC Coordinator

Jack Halsey (jack@oswegowatershed.org) joined Oswego Lake Watershed Council in September 2019 as the new Coordinator. Jack grew up in Oregon and began working with watershed councils in 2013 as a Fish Passage Intern with the Johnson Creek Watershed Council. Jack received his Environmental Analysis degree from Pitzer College, with a focus on Environmental Science. He was a seasonal Park Ranger at Tryon Creek State Natural Area for two years, working to improve recreation opportunities, educate visitors, and restore degraded habitat. Jack served as a Confluence AmeriCorps Member from 2018 to 2019 with Johnson Creek Watershed Council as Outreach and Riparian Specialist. In that role, he planned and implemented riparian restoration projects, volunteer events, and environmental education for student groups from under-served communities.

In his new role with Oswego Lake Watershed Council, Jack is looking forward to managing restoration projects and ensuring access to natural resources for all who live, work, and recreate in the watershed  In his free time, Jack enjoys hiking, going to concerts, and making ceramic art.
Current Council members include:
Stephanie Wagner, Chair

After completing a Masters degree in cell physiology Stephanie Wagner (stephanie@oswegowatershed.org) worked for 10 years in mosquito genetics and shark physiology research at UCLA. The birth of four children and a move to Oregon in 1976 took her out of the research laboratory and into local schools where she volunteered supporting elementary science education. This experience led to her employment as Education Director for Friends of Tryon Creek State Park where she supervised an education program with over 10,000 participants annually. She is presently working for PSU's Center for Science Education as the Director of the Masters in Science Teaching program. She also teaches Connect2Science through Nature classes for in-service elementary teachers; giving kindergarten through fifth grade teachers the tools to incorporate outdoor experiences into their science curriculum. Stephanie has served as an active volunteer with the City of Lake Oswego serving as a member of the Parks and Recreation and Natural Resource Advisory Boards.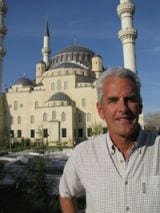 Thomas Bland, Treasurer

Thomas Bland, Treasurer, (tom@oswegowatershed.org) is a Certified Public Accountant. He has extensive experience in financial operations, taxation, board relations, corporate governance, risk management, operational administration, treasury and human resources. He is the Chief Operating Officer for Cascadia Green Building Council, a green building organization headquartered in Portland's Pearl District. Tom is also president of Sequoia Financial Consulting, PC a Tax and Accounting firm. He has a BS from the University of California and an MS from the University of Arizona. Tom has lived in Lake Oswego for 19 years. He is on the board of directors for Friends of Springbrook Park, the Uplands Neighborhood Association as well as being on the board of the Oswego Lake Watershed Council.
Mike Buck, Secretary

Michael Buck (mike@oswegowatershed.org) is a business person who has lived in Lake Oswego for twenty-eight years. He has served on numerous community task forces and commissions including the Lake Grove Comprehensive Plan, the Lake Grove Village Center Plan, and Advisory Committee for further refinement studies on Boones Ferry Road. He chairs the Friends of Iron Mountain, local neighbors and citizens who actively work to restore native habitat to public park land. The City and his fellow citizens have acknowledged his service to the community through numerous citations including Unsung Hero Award.
Rob Amsberry, Stakeholder: City of Lake Oswego

Rob Amsberry (rob@oswegowatershed.org) is a Surface Water Management Specialist for the City of Lake Oswego where he has worked for the past 26 years. He designs and manages the construction of capital improvement projects, conducts stormwater reviews of proposed development, performs all tasks related to the management of the City's floodplains and is managing the City's efforts to meet DEQ permitting requirements for its Underground Injection Control (UIC) program. Rob has a BS in Civil Engineering Technology from Oregon Institute of Technology and is a Certified Floodplain Manager. His continued education has been focused on stream restoration, applied river morphology and floodplain management. Originally from Pendleton, Rob and his family have resided in North Clackamas County for the past 20 years where he and his wife spend their free time volunteering with a variety of programs including Boy and Girl Scouts, public school activities, local food banks and youth sports.
Mary Ratcliff, Stakeholder: Liaison for the Lake Oswego Sustainability Network

Mary Ratcliff (mary@oswegowatershed.org) has a Masters in Computer Science with an expertise in large databases and worked with IBM for 9 years. She has owned a home in Lake Oswego since 2001. Mary volunteers for a number of organizations: she is the co-chair of the Lake Oswego Sustainability Advisory Board; a steering committee member for the Lake Oswego Sustainability Network, and is the Liaison for the Network's Water Action Team of which the Watershed Council is an important stakeholder. Other organizations where Mary volunteers are the Audubon Society of Portland where she is the co-chair for the Wild Arts Festival Book Fair, leads occasional bird outings and works in the Nature Store, and OPB where she has helped with website development and membership drive coordinator/facilitator.
Mark Rosenkranz, Stakeholder: Lake Oswego Corporation

Mark Rosenkranz (mark@oswegowatershed.org), a Limnologist with over 20 years of experience on Oregon lakes is a founding member of the Watershed Council. He is the Past President of the Oregon Lakes Association and a member of the North American Lake Management Society and the International Society of Limnology. He has been the Staff Scientist and Project Manager for the Lake Oswego Corporation since 2012 and is responsible for all aspects of water quality monitoring and treatment. Mark's focus is reducing the concentration of phosphorus in Oswego Lake that drives summer algae and cyanobacteria blooms. This effort involves in-lake treatment and watershed improvements that reduce high nutrient runoff into the lake. This effort is becoming more difficult as the effects of climate change lead to more intense storms and increased watershed erosion. The Watershed Council is a strategic partner in educating residents and advocating for watershed restoration projects.
Dwight Sangrey, Stake Holder: Mountain Park Homeowners Association

Dwight Sangrey has lived in Oregon since 1988 and moved to Mountain Park, where he is a member of the Board of Directors and President, in 2002. He and Karla have grown children and five grandchildren who all live in other parts of the country. Dwight is an engineer who spent 30 years in higher education as a teacher, research director and academic administrator. He also has worked in engineering design and management and in leadership of several technology companies. He has been very active in international volunteer work, especially since retirement, and remains involved as a consultant.

Dwight and Karla came to Oregon from upstate New York when he became President of the Oregon Graduate Institute of Science and Technology. Following his retirement from the university he was CEO of Santa Fe Technologies Inc. and a Principal with Golder Associates, an international environmental and technology firm. He has been an active contributor to economic development programs, primarily focused on technology companies, and has been a member or director of several major university/industry/government organizations including the Ben Franklin Partnership Program, the South Africa Project for the Ford Foundation and the Oregon Council on Knowledge and Economic Development (OCKED). Participation as a Trustee on public and private governance boards has included service to Pacific University, Saturday Academy, the Portland Opera and other volunteer groups. He has also served as a Director or Chairman on six public and private corporate boards.
Sara Asby, Stake Holder: Mountain Park Homeowners Association

Sarah Asby has lived in Mt. Park since 1974. Her house is located on one of the green spaces of the community which parallels Springbrook creek where it flows through Mt. Park. Sarah has a Biology degree from Grinnell College in Grinnell Iowa and a Master's degree in Botany from the University of Iowa. She has taught high school Biology both in Iowa and in Oregon. She has served on several advisory boards of the city of Lake Oswego – the energy board back in the late 70s, 8 years on the Natural Resource Advisory board and 5 years on the Sustainability Advisory board. She recently was a member of the Ad Hoc Tree code committee for the city. Sarah enjoys the many outdoor recreational opportunities of the area such as hiking and skiing. She is currently active in a local Arabian horse club, serving as a delegate to the national convention and is in the process of getting certified in equine therapy, working with people with special needs interacting with horses.
Barbara Fisher, Stake Holder: Friends of Hallinan Heights Woods

Barbara Fisher together with her husband, Jim Fisher, coordinate Friends of Hallinan Heights Woods which includes Hallinan Woods, Freepons Park Woods and Cornell Corridor of Trees. She also serves on the Hallinan Heights Neighborhood Association Board.

With a degree in art and a masters in teaching, Barbara has worked as an elementary, junior high, and K-8 art teacher.  When the Art Literacy Program began in Lake Oswego Schools she volunteered as a school coordinator and was the first all district coordinator for 10 years.  She initiated adding Our Lady of the Lake School and the junior high schools to the program and served on the City Arts Commission for 5 years including chairing the Commission and the Permanent Art Collection Committee.

Jim and Barbara were recognized in 2017 as Unsung Heroes by the City for their 14 years of restoration work in Hallinan Woods.
Jim Fisher, Stake Holder: Friends of Hallinan Heights Woods


Jim Fisher is a Certified Engineering Geologist with a BS from Villanova University and a MS from Caltech. After serving 2 years in the military, he worked on the Tran-Alaskan Pipe Project for 6 years, focusing on erosion control and quality assurance.

Working in California as a consulting geologist, Jim conducted landslide, earthquake, and groundwater investigations.  In 2002 he returned to Lake Oswego where he had attended junior and senior high schools.  Jim worked for Water Environmental Services in Clackamas County as soil scientist and supervisor.

Together with his wife, Barbara, he serves as Coordinator of Friends of Hallinan Heights Woods, working to restore the natural plant diversity of three city-owned natural areas. He and Barbara enjoy hiking and bird watching in Oregon's diverse landscapes.
Partners
The Council also partners with neighborhood organizations, businesses, government agencies, landowners and concerned citizens.  Council partners support the Council's watershed protection mission in the community in a less formal sense.  Partners volunteer at OLWC events, support OLWC project efforts and grant applications, and help strengthen OLWC community connections, as they are able.
For more information on becoming an OLWC member or partner contact us at info@oswegowatershed.org or call our message phone at 503-479-5560
Council partners include: