Meet Our Newest Stewardship Intern, Kirsten!
Kirsten Wright
Hi there, my name is Kirsten! I'm a new intern with Oswego Lake Watershed Council and
excited to be involved in applied watershed science with OLWC.
I recently completed my Master's in Environmental Management from Portland State University, with a focus in forest and plant ecology. I'm especially interested in climate change resiliency and how community involvement can improve watershed health. I'm also passionate about the conservation of Oregon white oak habitat. I look forward to working on stewardship and restoration projects with the community!
Kirsten Wright was born and raised in Oregon, spending much of her childhood running wild with her siblings outdoors. During twelve years of living and teaching in the Bay Area, Kirsten began exploring her interest in environmental stewardship and plant ecology. Her fieldwork has included ecological study and restoration in riparian zones, Oregon white oak habitat, fragile dune ecosystems and the forested foothills of the Himalayas in Nepal.
Kirsten received a BA in Art Education from University of Oregon, a BS in Biology (focus in Botany) from Portland State University and recently completed her Master's degree in Environmental Management from PSU as well. Her graduate research examined the effects of climate change on plant communities in Oregon white oak habitat. Kirsten's field and conservation work include projects with Metro, Hoyt Arboretum and Herbarium, and the Rae Selling Berry Seed Bank. In addition to her internship with Oswego Lake Watershed Council, Kirsten works at the Portland State University Herbarium, where she delves into the botany of Pacific Northwest flora.
In her spare time Kirsten enjoys sketching, backpacking, open-water swimming and exploring wild places with her family.
Meet our Summer 2021 Stewardship Interns, Elijah and Liliana!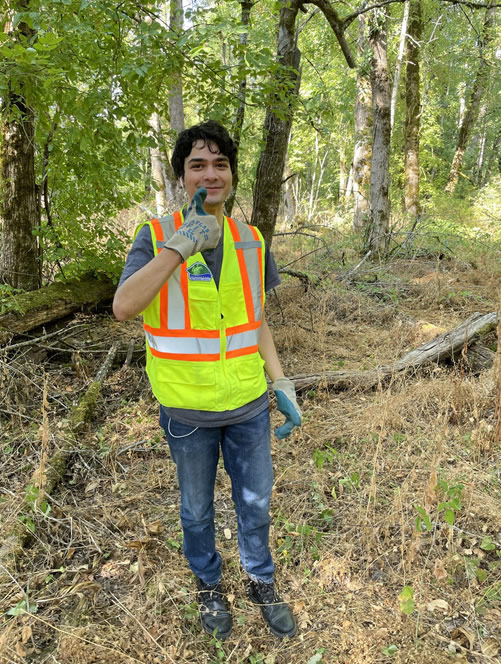 Elijah Garrett
My name is Elijah Garrett and I'm from Portland OR. My role at OLWC is a Watershed
Restoration Intern through the Summerworks program. The main focus of this internship is removing invasive species, watering newly planted trees, and helping out the forest.
Most of my work experience has been in the food service industry, and it has been nice having this job that is more calm and well paced. I have enjoyed this job because I get to work outdoors in nature, which has been a good learning experience. In my free time, I enjoy video games, watching films, and biking.
My favorite parts of the internship have been seeing the deer and observing the bees. I am also less afraid of spiders now. I enjoyed learning about native plants and using the iNaturalist app for plant identification.
Questions and Answers from Elijah:
What was your favorite project site you worked on?
The Twin Fir site was nice to work at because it was flat and was along Springbrook creek. It had a good atmosphere.
What are some of the benefits of urban greenery you've noticed and experienced in your everyday life?
I like the fresh oxygen from trees. I also like learning about the ability to use plants for medicine. What was the most surprising thing you learned while working with Jack on the sites? I was most surprised to see so many deer! It was also cool learning how we monitor and keep track of the trees in the forest and collecting data.
What was your favorite native (or non native) species?
Blackberries
What comes to mind when you think of community and environmental stewardship?
Working together as a team and accomplishing goals.
What are some barriers to green spaces that you've noticed in your everyday life?
Lack of transportation and low quality bus routes make it harder to get to parks.
What's something you're looking forward to this Fall/Winter?
I'm looking forward to the cool weather and the changing seasons.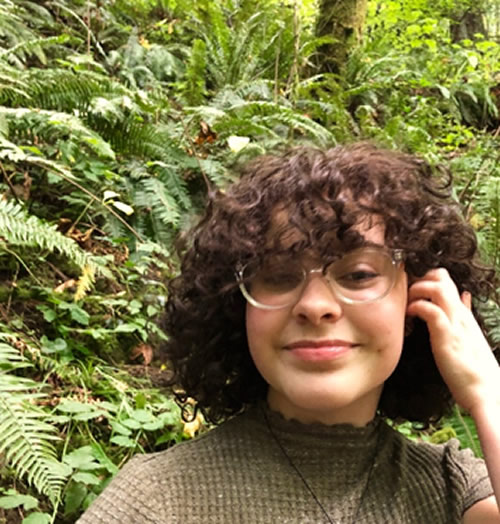 Liliana M. McClain
I have a variety of past and current work experiences. I was honored to have been an active member of the name change committee for my school, Ida B. Wells-Barnett High School, where I will be a senior in the Fall. I currently work as a swim instructor at Sellwood Pool and was a lifeguard there as well. I volunteer as a Crew Leader with Friends of Trees, a non-profit that trains the public how to plant trees and to grow community, providing "equal access to the benefit of trees." I also have a part-time internship with Open Sesame, a company that uses technology to offer innovative approaches towards eLearning utilization and employee engagement for a variety of industries.
I am still exploring possible college majors and career directions, but one thing I'm clear about is that I love science and research! I love collecting samples, analyzing them, finding some answers and then asking more questions. I love the teamwork of research and how everyone works together to make it happen. I especially love research that intersects with sustainability and helping the environment. I am very excited to have been accepted as an intern for the Oswego Lake Watershed Council and I'm grateful to Jack Halsey for everything that I have learned there so far.